It's quiz night and the doyens of Cork GAA are licking their lips, keen to flaunt their encyclopedic knowledge of the local hurling scene. Movies and geography hasn't gone their way, but the next round, 'Fifty Years of Cork Hurling', is one for the specialists and this cohort of sporting experts, connoisseurs of our native games, are determined to prove their worth. "First Question: Which Cork player has the greatest points to games ratio in championship?" The anoraks hunker down and rattle off an impressive list of luminaries past and present. They muse over Ring and Hoggy before settling on the great Charlie McCarthy, logically surmising that he would have played less games, thus skewing the ratio in his favour. They sit back and sip their pints, quietly confident. Sometime later, the answers are read out. "Answer No.1: Finbarr Delaney". Eyebrows collectively raised, our experts are taken aback. "Ah ya, remember him".
A monument to humility, Delaney is surprised and almost embarrassed when made aware of his place in Cork's record books. "Jesus there was surely someone better than that". Perhaps, but none of them averaged eleven points a game over the course of their long and distinguished careers. Delaney's time as a senior inter-county hurler was anything but long. In the spring of '89, Cork hurling was at a low ebb, after a less than impressive campaign in Division 2 of the league, culminating in a ten point defeat to Dublin and an eight point defeat to Kilkenny. New manager Con Roche was under increasing pressure, having decided to eschew the services of stalwarts Tomas Mulcahy, Kevin Hennessy and Ger Fitzgerald. Two weeks before the Munster semi-final, Cork's long-serving corner back Denis Mulcahy was taken for 2-7 in a club championship game for Midleton against Blackrock. On the hunt for fresh young blood to revitalize his ailing forward division, Roche promptly fast-tracked Mulcahy's tormentor into his starting fifteen for his inter-county bow. Finbarr Delaney was 32.
"I was on the periphery of the Cork team in '85 and '86 and I always felt I was going well in club hurling, but it's another step up with the panel of players in Cork at the time. They obviously saw something in me that I could give them something on the day. Club hurling then, I would have been getting a lot of scores as well. I played corner-forward and I was also a free-taker so my scores would have been reasonably high."
Long before Finbarr Delaney became known as the father of an Ireland international and Premier League footballer, Damien Delaney would have been recognised locally as Finbarr's son. Damien, an accomplished GAA player in his own right, won a Munster minor football medal in 1999 before scoring two goals ("it should have been three", reminds Finbarr) from midfield in the All-Ireland semi-final defeat to Mayo. He didn't lick it off a stone, as they say. Twenty-five years previously, Finbarr had donned Rebel red with some distinction, winning minor All-Ireland's in both hurling and football. The hurling team which defeated Kilkenny in the final at Fraher Field was buttressed by a Blackrock foursome comprising Delaney, Tom Cashman, Dermot MacCurtain and Danny Buckley. Three years previously, Delaney, Cashman and Buckley had won the inaugural Feile na nGael competition in Thurles, Delaney etching his name in history as the first captain of the prestigious tournament.
"It was like winning an All-Ireland coming back to Blackrock because you were being cheered all the way home. Hurling back in the 70s, it was the sport, there was not much competing with it and that's the way the clubs recognised it. If you were to look at the Feile teams down through the years, all over the country, how many players came through that had played Feile and went on to win All-Irelands. That's where it starts off, that's where it stems from."
In '76, that Rockies quintet claimed an U21 All-Ireland, again defeating Kilkenny below in Waterford. Unlike today however, underage accolades with Cork didn't guarantee a starting berth at senior club level, at a time when the club game in Cork was living up to its billing as the 'Mini All-Ireland'. Between 1971 and 1982, the club championship in Cork was under the thumb of its traditional bastions, with Blackrock, St. Finbarr's and Glen Rovers apportioning twelve consecutive club titles between them, annexing eight Munster championships and seven national titles along the way. Meanwhile, the county team remained interspersed with Church Road representatives. As such, Delaney would have to wait in line.
"That was a golden era. If you look at the Rockies senior team back then in the 70s and early 80s, that was like an All-Star team. You had the three Cummins', the Moylans, the Cashmans, the Collins', Eamonn O'Donoghue. You had a lot of experienced senior players and at that time players played well into their thirties so you rarely had a space coming up. You just had to be ready, whether it was for a half hour or an hour. In '74 [All-Ireland minor winning team], there was four of that team from Blackrock but you're not going to see four fellas walk straight into a senior team. We were only young fellas, you're up against seasoned campaigners. You're waiting for your opportunity, sometimes it takes longer to come."
While he was biding time to establish himself with Blackrock, Delaney busied himself with other sports, playing soccer with Ringmahon Rangers as well as rugby. Most notably, he played in goal for St. Michael's while also acting as understudy to Billy Morgan for Cork in '77. Playing in three county finals in a row between '76 and '78, St. Michael's hoped to claim their first ever senior county title but were thwarted each time, twice by Nemo and on the other occasion by the 'Barrs.
"We were very good at underage coming up, football and hurling, from 14, 15 up. We won an under 21 county in '76 and there was about eight or nine of us then put straight up onto the senior team and it clicked for us for those three years. Like the present Michael's team at the moment at intermediate, we failed just to get over the line but that's the way things just pan out".
Reluctant as ever to make excuses, Delaney is quick to quell any notions that they were impinged by dual commitments.
"I wouldn't think so because it was the norm at that time. Any player that was handy at both codes played both codes. We had quite a few that played both senior hurling and senior football but it was pretty much the norm, every club had an amount of dual players."
Although Delaney was on the fringes of the Blackrock teams that won county titles in '75, '78 and '79, he wouldn't play in his first county final until 1985, by which time he had progressed to the forward ranks.
"I nearly played in every position bar in goal. It was only late on with Blackrock that I started moving to wing-forward and then eventually I ended up corner-forward. I would have been really fit and we were trying to fill gaps. Every club is inclined to do that, you're trying to move players into positions and you click and you do well there. I just played wherever I was put. When you become a forward, you're recognised as a forward. Most clubs had a lot of backs, it was forwards most clubs were always looking for, so they would be trying everything and anything to get more natural forwards. I probably fitted that bill, that I could slot in and play as a forward. It's easier to play as a back than a forward"
"We would have been underdogs in '85 [in the county final against Midleton], it was probably a transition year where a lot of the older players that would have been around in the '70s would have been finishing. It was Canon O'Brien's first year taking over the club. He was a minor selector for me in '72 and in '74."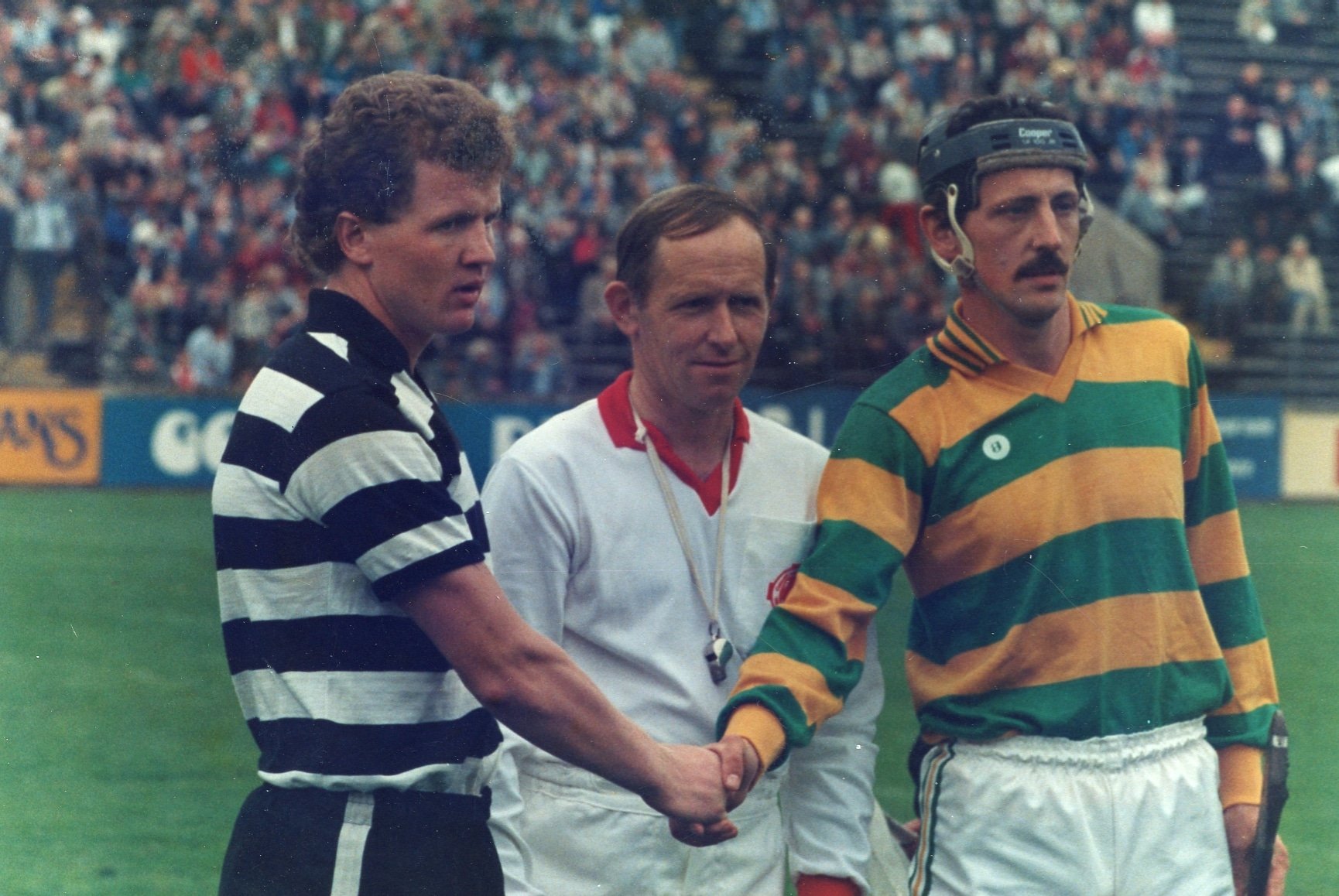 Delaney ended 1985 as the top scorer in the club championship and in the seasons that followed, cemented his status as one of the most prolific forwards at club level in Cork. However, a solitary league game against Limerick towards the back-end of '85 notwithstanding, his scoring returns with the Rockies weren't enough to earn inter-county recognition.
"I was playing well enough, but obviously not good enough to get into a senior team. I wouldn't say I was disappointed. As long as I was going out playing club hurling and returning those types of scores, it's up to individuals then after that to see if you're big enough and fit enough to step up to it. It's about opinions then, like all sport. If you're playing well at club hurling, you can't do anymore, it's up to other individuals then. I was never going out with a point to prove. You always want to play senior inter-county hurling, but disappointed would be too strong a word."
Delaney's chance finally came in '89, fifteen years after his exploits at minor level.
"I never thought of it [his chance] as after passing because I was involved in the footballers in '87 and if you had said to me two years earlier would I have been, I'd have said no. If you're playing well enough and someone thinks you're playing well enough, you're going to be picked. Whether it be at the start of the year, or the end of the year, that they see you can contribute something, but it's up to you as an individual to set the markers and set the bar high."
Of the six forwards that lined out in the 1989 Munster semi-final, only Tony O'Sullivan had played in the previous year's Munster Final defeat to Tipperary. Alongside Delaney, clubmate Michael Dineen and Argideen Ranger's Mark Foley were also making their inter-county championship debuts. In the first game, Delaney scored eight points (one from play), including a late free to eke out a draw. In the replay, his tally of 1-11 (1-1 from play) wasn't enough to prevent a first Cork defeat against Waterford since 1974. Perhaps, like the rest of Cork's hurling community, they are games that he'd rather forget.
"My recollection of '89 is actually quite poor. They were two high-scoring games, but the actual games themselves and how the scores came about and I'm being thoroughly honest with you, I have no recollection of it. I'd usually have a good recall on games but by the same token then, you don't be recalling bad games or when you're beaten by Waterford."
Although the game is often remembered as a nadir for Cork hurling at the time, Delaney doesn't recall the criticism as being overly zealous.
"It was never done, if you'd a bad day. It's more intense now, obviously with the media and social media, you can't get away from it. Whereas after the Cork game, once you got over Monday, when the match report came out, there was always something else happening in hurling or football. At that time, you'd only one or two reporters, you had maybe Jim O'Sullivan and Michael Ellard and I can't say I ever heard anything that negative."
Despite being one of the few players to emerge from '89 with their reputation enhanced, Delaney's Cork career wasn't prolonged into the new decade, even allowing for the introduction of a familiar face in Canon O'Brien at the helm. Thirty years on however, Delaney isn't one to dwell on what might have been.
"I never thought of it that way to be honest. I just went back playing club hurling. There comes a stage, you keep going and going and you're not making the breakthrough, so you better go back and put your resources back into the club. I got tremendous enjoyment out of it [Cork's All-Ireland victory in 1990]. I wanted to play every game and to play inter-county but it is what it is. I'm not one to look back and say if I would have done this and done that. I always believe if you give 100%, you'll get the just rewards."
Delaney played his last game for Blackrock in the '92 county semi-final defeat to Na Piarsaigh. Cognisant of the young hurlers coming through and perhaps influenced by his own experiences in the '70's, he quietly stepped away.
"Piarsaigh's beat us in the semi-final and after that then, although I felt I could play away, there was other players coming on. I wouldn't be one to be hanging around. I was still quite fit but there were other players coming on the scene. In the '70's and '80's as I said, players stayed around longer and you're stopping players coming behind then so I just drifted out of it."
"I always said I'd retire when was 36, although I never thought I'd reach it. I fell in with Avondale in the Munster Senior League and stayed with them for four or five years and I played a while after with Cobh Wanderers. I just loved playing sport and being involved with it."
An inter-county career which encompassed two championship matches, one goal and nineteen points, it is unlikely that any player will ever beat Finbarr Delaney's unique record. Either way, I don't think he's too bothered.